5 TYPES OF RAIN GUTTERS TO CONSIDER FOR YOUR HOME
Rain gutters, which run along the base of a roof, do more than keep downpours from drenching people as they come and go. By channeling water out and away from your home's foundation, rain gutters reduce the risks of a flooded basement or damaged siding and minimize erosion and harm to your landscaping. What's more, folks hoping to conserve water can direct runoff from gutters into a rain barrel to serve as a reservoir for the garden. Although rain gutters are simple structures, they come in a variety of configurations and are typically manufactured from five different materials—so whether it's time to replace old and rusted gutters or you're installing them for the first time, here's what you need to know to make the best choice.
Comparing Common Rain Gutter Materials
Wood, once the common material for constructing rain gutters, is prone to rot and weathering. So while you might still see wood gutters in very old, historically significant neighborhoods, today's rain gutters are generally made from aluminum, vinyl, zinc, steel, or copper. Half-round and K-style gutters made from all of these materials; fascia gutters are only made of aluminum. Here's how the five materials compare.
1. Aluminum is the most popular material for rain gutters, whether seamed or seamless.
Aluminum gutters come in three standard thicknesses: .025 inch, .027 inch, and .032 inch. While the thinnest aluminum is the least expensive, it's also likely to dent or bend; thicker metal is slightly pricier but generally worth it, particularly if you live in an area with heavy snowfall in the winters.
PROS:
Won't rust
Lightweight and easy to install
Available in many colors and can also be painted
Weatherproof
Can last up to 25 years
CONS:
Can dent or bend
2. Vinyl is the least expensive choice, and the easiest for DIY installation, as it's lightweight, fairly easy to cut, and snaps together.
You'll find vinyl gutters in a few different colors, and they can be painted to suit. Vinyl is the least durable gutter material; you'll typically get around 20 years' use from vinyl gutters in climates that aren't too severe. It's also prone to fading in bright sunlight.
3. Zinc rain gutters are expensive but highly durable, resisting corrosion, weathering, and warping.
You can expect up to 50 years of use from your zinc gutters (somewhat less if you live near the ocean or anywhere else with salty air). Although they start off a dull gray, zinc gutters will develop an attractive patina over time. Zinc gutters require professional installation, as the joints and ends must be welded, and are usually only used on historic or high-end homes.
PROS:
Very long-lasting
Won't rust, warp, or fade
Develops an attractive patina over time
CONS:
Expensive
Not suitable for DIY installation
Somewhat intolerant to salty air or acidic runoff from cedar-shingled roofs
4. Steel rain gutters are more durable than aluminum gutters, particularly in severe weather climates.
Most steel rain gutters are galvanized to increase rust-resistance, but oxidation will generally still take hold within 10 to 15 years. And while leaf guards help extend the life of any type of rain gutter, they're especially important with galvanized steel gutters, as sodden masses of fallen leaves speed the onset of rust. Stainless steel gutters won't rust, but they're considerably costlier than galvanized steel. Because steel gutters are quite heavy, DIY installation isn't recommended.
PROS:
Very strong
Holds up to all types of weather
Can be painted
CONS:
Prone to rust
Not DIY-friendly
Heavy
5. Copper has a unique beauty, but the shine will eventually give way to a greenish patina.
Many homeowners feel that weather-worn copper contributes to its old-world appearance. And though copper is extremely durable–it's unfazed by any weather condition from highest heat to coldest freeze–it's also the priciest type of rain gutter, and it isn't suitable for DIY installation. Generally used only on high-end homes, copper rain gutters can last up to 100 years if properly installed and welded.
PROS:
The beautiful glow that eventually develops a greenish patina
No need for painting
Extremely durable in all types of weather
Won't rust or warp
CONS:
Very expensive
Not DIY-friendly
It might be time to call a pro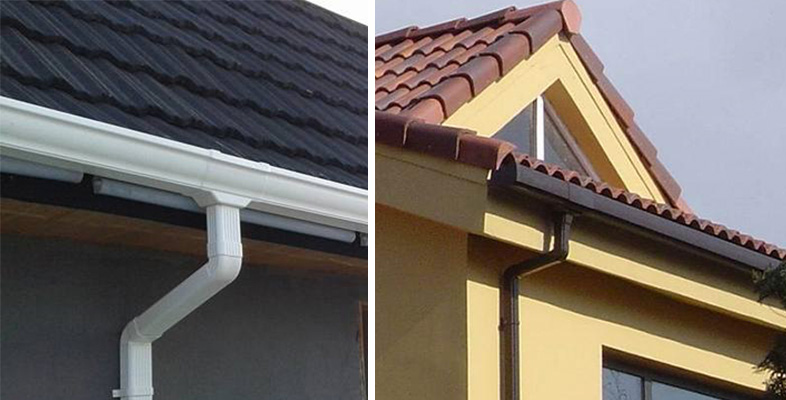 https://www.sangobuild.com/news/5-types-of-rain-gutters-to-consider.html

https://www.sangobuild.com/news/shapes-colors-stone-coated-steel-metal-roofing-sheets.html

https://www.sangobuild.com/news/double-layer-asphalt-shingles:-all-you-need-to-know.html


If you are interested in sending in a Guest Blogger Submission,welcome to write for us!