Soundproof Booths For Offices - M Size
4 Person Desk Pod Acoustic Office Pods For Sale
External Size(MM): 2200W x 1200D x 2200H
Material:
1、Finishes
External Finising: 1.0mm glavanised with powder coating or PVC surface
Internal Finishing: 9mm acoustic panel with hard grey color
Floor: carpet*1, adjustable legs*6,casters*4
Rear Glass: 10mm tempered Glass with black Alum. frame
Glass Door: 6mm tempered glass with black Alum. frame
Door hardware: German brand (ECO, GRIFF WERK) stainless steel lock, handle, hinges, and door closer.
2、Power & Accessories
Power will be equipped as per country CN/US/UK/EU/UNIVERSAL
Charge station: power socket*2, USB*2, switch panel*1 Ventilation Fan: silent fan * 4
Lighting: LED light Cable: 3 Metre Power Cable w/ 13A Plug
3、Optional Furniture
White Desk (400*600mm) with metal leg*1
Grey Fabric Sofa Seating*2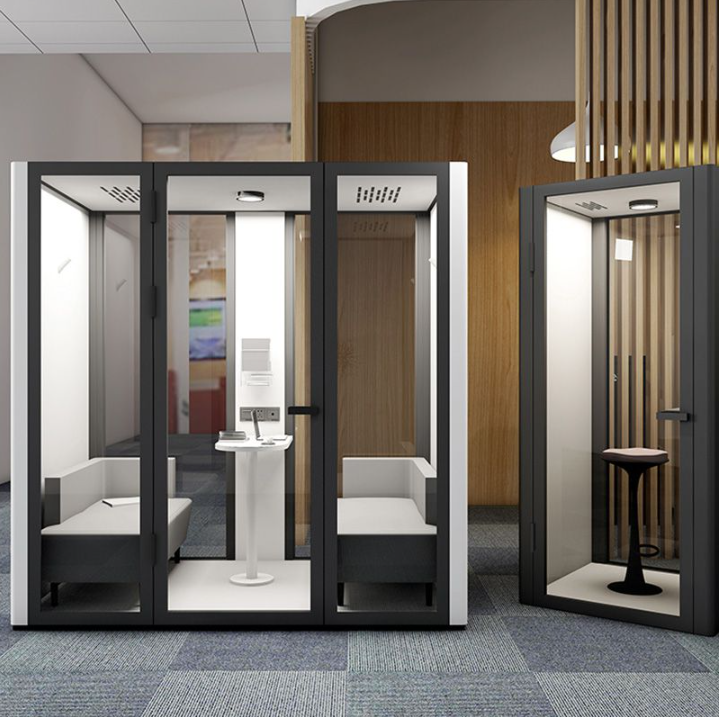 Color: Black, white, grey, or customizable
The M Pod is suitable for up to two people and is ideal for one- on-one meetings. It includes two sofas, a desk, and add-ons. Moreover, it is moveable, which means it can easily be moved from one side of the office to the other as needed. LED lighting and four ventilation fans ensure optimal comfort.
Design Concept
Weworth Soundproof Booths For Offices provide an on-demand soundproof workplace, designed with individual work meetings and collaborative meetings in mind. They include comfortable seats, a table, hangers, two power sockets and many optional accessories to create the perfect mini-office. They are fully removable, which means they can easily be moved from one side of the office to the other as needed. Smart LED lighting and ventilation fans ensure optimum comfort.
Welcome browse our website and contact us.
If you are interested in sending in a Guest Blogger Submission,welcome to write for us!