How to Choose a Vinyl Cutter?
Choosing a cutting method for heat transfer vinyl, twill, felt, and other fabrics is not a simple choice, so we are breaking it down to the top things to consider.
Computer compatibility
Type of materials your cutting
The top feature that will expand your transfer offering
Supplier support
1. Computer Compatibility
Not all vinyl cutters work the same on Macs as on a PC, but most major industrial brands are compatible with both. There can be additional costs to make certain vinyl cutter brands work properly on a Mac system; for example, you may need to purchase Illustrator. There's also the computer system version that will determine compatibility, so the decision may be obvious. As a leader in this industry, we stay on top of compiling this info in our Vinyl Cutter Comparison Chart. Visit the chart and look under the Operating System section to see which specific programs are required along with the compatible versions.
2. What type of material are you cutting?
A roll-fed vinyl cutter requires the heat transfer material to have a carrier so it can be fed through the cutter as the blade cuts through the material only and not the carrier. The type of motor will determine the capability to cut vinyl-type materials or fabric-type materials. A servo motor is best for cutting fabric when using a blade as a stepper motor will burn out quicker on thicker fabrics.
The potential of a laser cutter is based on the laser tube wattage and you only need a minimum of 20 – 30 watts to cut most heat transfer materials and fabrics. When using a laser as the cutting method, only cut PVC-Free materials. If you are cutting fabric, lasers can sometimes singe the edge of lighter colors.
Laser systems always cut on a flat section of the machine and "vinyl cutters" come as roll-fed or flatbed. The advantage of cutting on a flat, motionless area is that you can cut stacked materials; for layering multiple colors of material to achieve offset cutting. Roll-fed cutters require you to feed one at a time. Flatbed cutters limit the nesting area and may require you to cut down rolls of material into sections. Roll-fed cutters allow you to continuously feed rolled material through for faster production.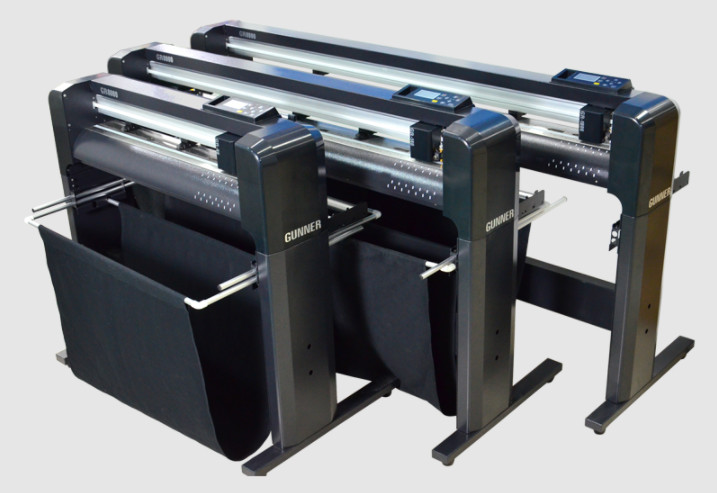 3. Top feature to expand your transfer offering
Vinyl Cutters work with vector art. In this business, you'll most likely have to work with raster art at one point. Unless you have a print/cut system, a vinyl cutter with an optical eye feature is the best way to achieve the digital transfer look for the fraction of the cost. Use Inkjet transfer paper to print and then precisely contour cut around the image. This process is done with registration points that are printed on the transfer paper so the optical eye sees where to contour cut around the raster image. Transfer papers come on carriers or not on carriers, so you must make sure you have a transfer paper that can be roll-fed through the vinyl cutter. If you're using a flatbed cutter with an optical eye, you don't require a paper with a carrier since most flatbeds keep the paper in place with tack sheets or suction.
4. Supplier Support
As the meticulous works by Gunner, Gunner GR8000 Series Vinyl Cutter adequately embodies the high performance cutting plotter in every aspects, such as superior stability, high precision, high cutting/ plotting speed, extra long distance linear tracking ability, big cutting force, super simple operation, just name a few.
GR8000 ensures the high rate of return of customers in Automotive Aftermarket, Wide Format Signage, Heat Transfer Apparel, Custom Decals and Stickers, Road& Traffic Reflective Signage and more.
GR8000 Series performs quality cutting in those thin, thick, rigid materials like Paint Protection Film/PPF, Window Tint, High Intensity Prismatic Reflective Sheeting, Magnets, Sandblast Rubber Stencil and common vinyl stickers.
If you are interested in sending in a Guest Blogger Submission,welcome to write for us!