These are the 4 simple ways to keep Door Skin as good as new
It is highly essential to choose the right door skin design when renovating a commercial or residential place. Premium door skin demands high maintenance costs, so it is highly required to clean and maintain them properly, even after installation. The process needs to be done time to time in order to avoid wear and tear that causes damage to the door skin. In this blog, we will brief about the 4 simple ways to keep Door Skins as good as new.
Avoid using Abrasive Agents – It damages the surface of the door skin
Never use abrasive cleaning agents like black soap, scouring pads and powders, and other cleaning products that have strong alkaline or acid bases because it damages the surface of the door skin.
For tough stains, use Mild Cleaner
Chemical substances damage the laminate surface if exposed for a prolonged period. Avoid excessive use of strong cleaning agents. To clean tough stains, use a wet cloth and clean it till not even a single water droplet left on the surface, or a mild cleaner. Keep in mind even not to use mild cleaner on a regular basis. Organic solvents or non-scratch liquid cleaners are highly recommended to clean tough stains from a door skin surface.
Wipe the surface regularly – It is extremely easy to clean and maintain
It is probably the easiest way to do so. It will neither damage the laminate surface nor leave any stains. Clean the door skin twice a week with a soft, lint-free cloth.
Avoid prolonged exposure to sunlight
The UV rays present in sunlight may fade away the shine of the door skin surface. Use curtain so that door laminates won't come in direct contact with sun rays.
1. Aesthetic and highly durable
These doors are a well-match with most home designing ideas and can serve well to augment the aesthetics of your house. The simple and sleek design of these doors can impress every individual. Their efficient functionality combined with the practical design synchronizes perfectly. Skin doors are also highly durable and therefore an ideal choice for front doors.
2. Resistant to termites
Termites spoil wooden interior decorations over the period of time. But skin doors are resistant to termites, which results in a much longer lifespan, keeping its look and charm intact for years. These doors are also borer-proof and hence a nice choice for traditional homes.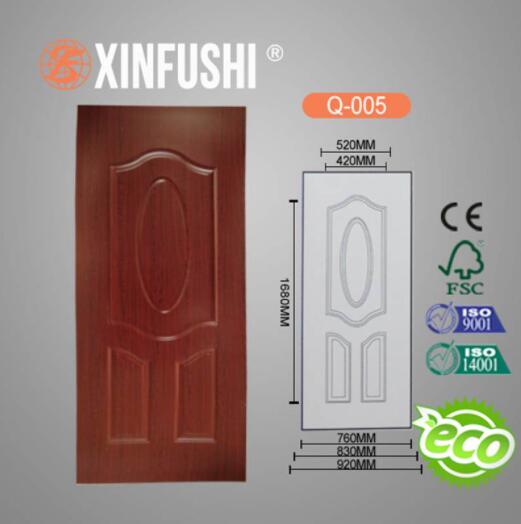 3. Easy to clean and maintain
Cleaning is an important factor in maintaining the look of your doors. These HDF moulded doors are designed in such a way that they can be easily cleaned using natural cleaners. A regular vacuum or a wet wipe are some easy ways to keep dirt away from your doors. So with no extra cost and much less effort, skin doors can retain its ever new look for many years.
4. Moisture proof
Wooden doors are quite prone to moisture. For instance, if a wooden door is installed in your bathroom, it is immensely affected by the moisture content that results in excessive swelling of the wood. The moisture content in the air can also lead to the worn out look of the doors within years of its installation. However, such a situation is not experienced with this type of doors.
5. Cost-effective
Skin doors possess a number of benefits and are still available in an affordable range. You don't have to shed a hefty sum to install these doors in your house. Also, these doors are highly durable and can maintain their look and quality for many years. This way, you don't have to replace them after every 3–4 years, saving your hard-earned money once again.
If you are interested in sending in a Guest Blogger Submission,welcome to write for us!